Here is the weekly movie news for the first full week of August (can you believe August is already here?).  New trailer, some fun games and videos, a soundtrack song release, and more.
The Hunger Games: Catching Fire
The first track of "The Hunger Games: Catching Fire" soundtrack is about to be released.  On August 26th "Atlas" by Coldplay will be available for purchase.  This is the first time that the multi-Grammy winning band has recorded an original song for a major motion picture.  This is in preparation for Catching Fire's November 22nd theatrical release.  The first partnership between Republic Records and Lionsgate yielded the Grammy-winning, chart-dominating "The Hunger Games: Songs From District 12 And Beyond" featuring Taylor Swift, Maroon 5, and others.
The Hunger Games: Catching Fire begins as Katniss Everdeen (played by Jennifer Lawrence) has returned home safe after winning the 74th Annual Hunger Games along with fellow tribute Peeta Mellark (played by Josh Hutcherson). Winning means that they must turn around and leave their family and close friends, embarking on a "Victor's Tour" of the districts. Along the way Katniss senses that a rebellion is simmering, but the Capitol is still very much in control as President Snow prepares the 75th Annual Hunger Games (The Quarter Quell) – a competition that could change Panem forever. The Hunger Games: Catching Fire is directed by Francis Lawrence, and produced by Nina Jacobson's Color Force in tandem with producer Jon Kilik. The novel on which the film is based is the second in a trilogy written by Suzanne Collins that has sold over 50 million copies in print in the U.S. alone.
Planes
Disney's Planes soared into theaters this past week.  Did you catch it yet?  Keep the fun going by visiting FlewTube where you can watch video tutorials for making paper airplanes, watch flight-related Disney legacy content, and learn the parts of planes.  Fun and educational!  You can also check out the Propwash Pursuit desktop PC game, as well as the Jetstream Racers game for the desktop PC, tablet, and mobile phones.
Thor: The Dark World
The newest trailer for Thor: The Dark World is now available!  Any other Thor fans anxiously awaiting November 8th?  This looks SO GOOD!
Monsters University
The Monsters University Blu-ray Combo Pack (and 3D Blu-Ray Combo Pack) already has a scheduled release date – October 29th, 2013!  This will be a must-own for us – what about you?  You can pre-order it now from Amazon and other retailers to make sure you have your copy on it's release date.  In addition to the short "The Blue Umbrella", there are tons of other extras, including:
Campus Life – What's it like being on a production crew at Pixar? Get a look at a day in the life of the "Monsters University" crew through their own eyes.
Story School – This documentary examines the challenges of creating a prequel as well as themes that run through the story, and the change in focus from Sulley to Mike. We'll also look at how gags are developed – from writing jokes to brainstorming a million ideas, only 5% of which actually end up in the movie.
Scare Games – At Pixar, we play hard while we work. The same people who keep the film production moving – producers, managers, coordinators and artists – are also the ones who bring spirit and excitement to some of our extracurricular activities. We check out the MU production teams as they go head to head in the mostly playful Pixar Scare Games competitions.
Welcome to MU – Sets aren't just buildings, they are the worlds our characters live in and explore. This look at the Monsters University campus and its development is told from the perspective of the artists who created each piece of the campus from the architecture to the ivy leaves. .
Music Appreciation – Randy Newman's scores are a mainstay of Pixar films, and this documentary will give you a privileged look at his creative process. We follow the "Monsters University" scoring process from spotting to writing and on to the scoring session. including special college-themed recording sessions.
Scare Tactics – Animators are actors who digitally bring the characters to life. In this look at how the MU animation team worked, you'll see their process of how they channeled their own monster-selves and created moments on screen that were really funny, really scary and also really serious, sometimes all at the same time.
Color and Light – How can a single painting set the tone for an entire scene? We'll look at the creation of the colorscripts and how they were realized technically in the final film. Along with the process, this piece explores the many layers of technical innovation required to produce such a naturalistic feel.
Paths to Pixar – MU Edition – When one door closes, sometimes another door opens – one with an even more exciting opportunity behind it. Members of the MU crew tell their own compelling backstories and share the challenges they overcame along their paths to Pixar.
Furry Monsters: A Technical Retrospective – Explore the difficulties in creating characters that are 20 years younger with tools that are 10 years more advanced in this contrasting look at the differing technical challenges that arose when making "Monsters, Inc.," and "Monsters University."
Deleted Scenes – Four separate scenes – "Rivalry," "Recon," "Movie Night," and "Drama Class" – are highlighted with an introduction from director Dan Scanlon.
Additional Bonus Features – Audio Commentary, Promo Picks, College Campaign, Theatrical Campaign, Set Flythroughs, Art Gallery and more!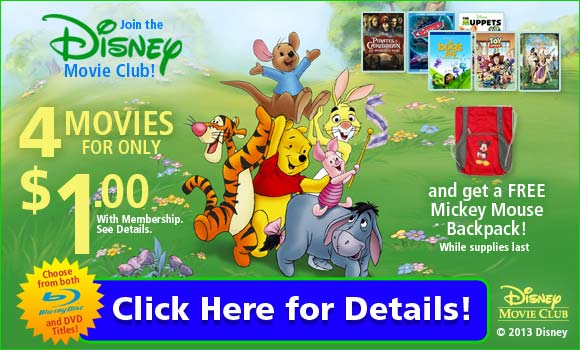 What piece of the weekly movie news is most exciting for you?