Celebrate Dr. Seuss' Birthday With Fun Activities
The anniversary of Dr. Seuss' birthday is coming up on March 2nd.  Born Theodor Seuss Geisel in 1904, Dr. Seuss wrote dozens of children's books that are still extremely popular today.  One of my favorites is "Oh, The Places You'll Go!"  I received a copy from a family member for my high school graduation and I still have it.
A number of his books have also been made into movies and television shows, such as Horton Hears a Who!, The Lorax (whom I had the pleasure of "meeting" at Blissdom last year), The Cat in the Hat, and the classic Christmas tale The Grinch That Stole Christmas.  We've enjoyed most all adaptations, but especially love both versions (animated and live version with Jim Carrey) of The Grinch; we watch them every Christmas.
Be sure to check out the fun that PBS has planned for the week of Dr. Seuss' birthday.  They air the kids' show The Cat in the Hat Knows a Lot About That and will have two new episodes, "Rumbly Tumbly / Planet Name Game" and "Top of the Sky / Jiggle Bones".  Their website will also have video clips plus a new game, "Swirly Whirly Pearl Hunt", where players can ride on the Thinga-ma-jigger down through Seussian schools of fish.
In addition to the fun stuff on PBS I have a few activities that you and your family can do together to celebrate his birthday.  I created a word search that you can print out for the kiddos (click the image for a non-marked printable version) and also have a couple other bloggers who wanted to share their ideas with you.  Finally check out my Dr. Seuss Pinterest board for even more ideas and fun!
Dr. Seuss Candied Popcorn Birthday Treats – from i Need a Playdate
Who-ville Hairdos – from Energizer Bunnies' Mommy Reports
Dr. Seuss-shaped Pancakes – from Energizer Bunnies' Mommy Reports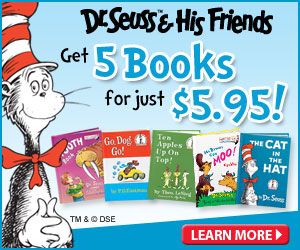 How will you celebrate Dr. Seuss' birthday?